Kate says . . .
I wish that I had been brave. I wish I had been that young girl who was willing to step out of her comfort zone and ask good, hard, sometimes embarrassing questions. I wish I had seen the need to be informed before I walked down the aisle to the man I loved. I wish I had been proactive in seeking information. I wish I had been just a bit braver.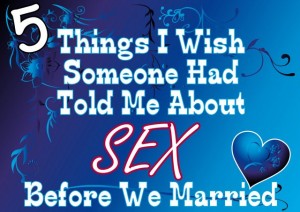 I entered marriage knowing the basics about sex but not much more. I never received any sex education at home, what I knew came from various sources, TV, and friends mostly. The biggest impression I had before entering marriage was that God intended sex for marriage, as something special and sacred. I thought sex was a natural thing and once we were married sharing it would come naturally. I never thought sex was a bad thing, or something dirty. That was never expressed in my family, so thankfully I was spared that kind of thinking. Yet, I had no idea what giving of oneself sexually and seeking to love and serve your spouse through sex entailed.
When I think back on that time, there are several things I wish someone had pulled me aside and told me  about sex. Or that I had been brave enough to ask!
Talking about Sex is a Must