Marriage: Mission
Possible
Today Scott of Journey to Surrender will be sharing his Marriage: Mission Possible . . .
If there was only one thing from the story of your marriage that you could share, what would it be? What lesson learned, revelation, heart change or profound moment is a testament to God's plan for marriage?
Scott says…
I still believe in chivalry. I still think "Ladies First" applies just fine to opening doors and abandoning ships.
However, in marriage there is at least one case when I believe it should be "Men First."
Who Goes First?
There are a lot of Christian women longing for their husbands to get engaged, to step up and to take their God-given mantle of responsibility and authority.  Week in and week out I get search engine hits from many such wives, seeking answers to their dilemma.  In just the past few days the following queries led women to my blog:  "My husband doesn't want to lead the family," "Christian husbands who won't lead," and my favorite, "husband won't man up."
On my blog, Journey to Surrender, I often explore the ways in which marriage reflects the relationship between Jesus, our heavenly Bridegroom, the church, His bride (that's you and me!).  This is the "great mystery" we read about in Ephesians 5. God had the wedding of His Son in mind all along, even way back in the Garden of Eden when He created the very first marriage. When he proclaimed that Adam and Eve were to become "one flesh," his ultimate goal was to use marriage as a portrait of the intimacy he desires to have with us.
One of the ways marriage is to mirror our spiritual relationship with Christ shows up in this verse:
"This is real love. It is not that we loved God, but that he loved us and sent his Son as a sacrifice to take away our sins." (1 John 4:10 NLT)
Jesus went first. He loved us first.
Husbands – Go First
I recently wrote about the fear many men face in stepping up to lead their families in my post "What Are You Afraid Of?"  I understand that fear.  Really, I do. But, husbands, I want to encourage you strongly to spare your wife a lot of grief by going first in establishing biblical order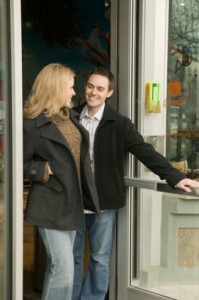 in your marriage.
But what does it mean to go first?
First let me tell you what it doesn't mean.  It doesn't mean trying to get your wife to submit.  That's a huge mistake husbands sometimes make as they start to lead.  Husbands are never directed to make their wives to submit to them.  No, your instruction is to love your wife as Christ loved the church.
And that means going first, just like Jesus did.
Going first means loving your wife first by giving to her unconditionally and cherishing her in ways that are meaningful to her. Going first means sacrificing first, being willing to lay down your own needs as you lead her and your family.  Going first means shaking off your fear and stepping up so that your wife doesn't have to struggle with how to coax you into taking the reins. For more on what it looks like to go first in lovingly leading your wife, see my post "Lead with Love."
What if your wife doesn't actually want to let you lead?  I've seen that plenty of times too.  But truthfully, it doesn't matter.  Your instructions remain the same: lead her with love.  Whether she chooses to embrace biblical submission or not, whether she obeys the Bible's instructions to respect you or not, you are still to love and cherish her relentlessly.  Jesus laid down his life for us long before we came around and responded to his love.  If you find yourself in the situation of your wife resisting your leadership, check out my post "What If My Wife Won't Let me Lead?"
Strong and Good!
I'll add one more warning.  I get an almost equal number of search engine hits on my blog from wives along this line:  "dictatorial husband," "authoritarian husband," and another favorite, "husband acts like he is my father."
So here is the deal, guys. You need to learn to be both strong and good, to lead and love, to use your authority to bless and serve your wife.  Your wife wants you to be strong, but she also needs you to be good to her – very good. You might want to explore this idea more by reading my post "Strong and Good."
Be a Bride First
Not sure how to balance the whole strong and good thing or how to lead your wife with love? I will simply point you to Jesus. He was definitely the ultimate strong and good man.
I often say that in order to be a great husband, you have to first understand what it means to be a bride. No, not the white dress part, the ravished by love part.
That's the story of my own marriage. It wasn't until my heart began to come alive to the powerful and unstoppable love of Jesus that I started to really understand what it means to be the kind of husband God intends me to be. As I awakened to the emotions of God that I'd never really known, such as His passion, zeal, desire, and longing for me, I started to see what "as Christ loves the church" really means. It's was a transformational revelation.
If you want to love your wife well, then you have to get to know the love of Jesus for yourself. It's no coincidence that a few chapters before Paul gives instructions on marriage, he prays for the church to gain an intimate, experiential knowledge of the love of Christ (Eph 3:17-19).  It's the key! It's the key to fullness in God.  It's the key to fullness in marriage.
To love your wife well, you must first understand "how wide, how long, how high, and how deep" his love really is. It means more than giving mental ascent to the notion or simply agreeing with it in your mind. You have to get this into the depths of your soul.  Don't reduce the love of Christ to a Sunday school song, "Jesus loves me this I know, for the Bible tells me so." If you really get this it will rock your world and transform your marriage.
In case the Ephesians didn't get it, Paul goes on to explain further at least part of what this unknowable love of Jesus looks like. A few verses before the famous passages on marriage, seemingly as an introduction to what comes after:
"Mostly what God does is love you. Keep company with him and learn a life of love. Observe how Christ loved us. His love was not cautious but extravagant. He didn't love in order to get something from us but to give everything of himself to us. Love like that."  Ephesians 5:2 (MSG)
Love your wife like that – first.
Scott Means blogs at Journey to Surrender, A counter-cultural pathway to a stronger Christian marriage.  He can also be found on Facebook and Twitter! I promise you will learn things from Scott's insightful writing!