Kate says . . .
So I was thinking about how to respond to my hubby's Dr. Suess parable, A Story of Zing 1 & Zing 2 about trying new things in our sex lives. I have always thought that Thing 1 and Thing 2 were a bit odd, but we'll go with it! 
Have you ever been approached by your husband to try something new? Has your hubby ever hinted at a new position or technique? Have you found yourself blushing (for all you Jane Austen fans), shocked or perhaps even excited? Perhaps you are both shocked and excited at the same time.  All of these responses are very common so you are not alone.  So what do you do, when Zing 1 or Zing 2 enters the bedroom?  Well hopefully they won't actually enter the bedroom and stay all day like Thing 1 and Thing 2.
Assess what your feelings and thoughts are on your hubby's suggestion
When your hubby comes to you wanting to try something new, resist the urge to immediately dismiss him, laugh it off or harshly reject the idea.  In saying this, let me be clear that I am talking about any idea he may have that involves the two of you and ONLY the two of you. Third persons and pornography have no place in the marriage bed and will lead to heartache. Not to mention God says they are wrong. So ruling that out, stop and listen to what he is saying. You can also ask him a few questions if you have them, trying not to be negative.
What does God have to say about it?
I will reiterate what Brad said in his post. Does God's word have anything to say about what you are considering? If so, His word is the ultimate authority and you should always seek to follow it. If your Zing is a grey area, which many of these subjects are you can pray for God's guidance.
Yes, No or Maybe
If his idea is something you know you would be totally ok in doing, don't wait-tell him. Or you could just show him!
Why wait? I am sure it will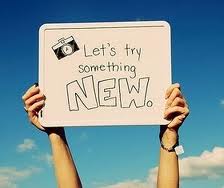 bring a big smile to your hubby's face.
If on the other hand, you are not sure, ask your hubby to give you a bit (not too long) of time to think it over and then have another conversation about it. I say have another conversation about it because, the decision should be made and weighed together. Being one flesh is not about him and her, it is about the two becoming one. Ultimately you have the right to say no to anything you are uncomfortable with, but that should be done in talking with each other and explaining as best you can, why you are not willing at this time to try said Zing.
Is it slightly out of your comfort zone or in another time zone?
When thinking over your hubby's suggestion, ask yourself if this is something that is just slightly out of your comfort zone or is it way out there for you? If it is something just slightly outside, perhaps a different position, lights on or a new outfit, consider how it can bless your marriage to try new things. If it is way out there, then take some time to pray and heartfully consider his idea.
Is my hubby weird or gross?
Being sexy and finding new ways to spice things up a bit, is not wrong. God designed sex to be HOT and AMAZING. Your hubby is not gross for wanting to spice things up a bit. He loves sex with you and the connection it brings. Finding ways to do things a bit differently breaks down the monotony! Take my love of eating chicken for example: I love to eat chicken, but if I had to eat chicken prepared the exact same way day in and day out-well it would be bland. I still love eating chicken, but adding a few different spices and perhaps grilling instead of baking would be tasty.
But Kate, you may say, "My hubby wants to do things that are off the wall."  If your husband's ideas are truly too far out there, then I would still say he is still not gross. Misguided he may be, but not gross. Sex is a wonderful blessing in marriage and like any blessing, it can be twisted and turned into things it should not be. Talking to your husband with an air of "you are gross" will only tell speak one thing to him-"you are gross!"  He will not hear anything else you have to say. If there is something you need to say no to, do so with kindness and respect. Sharing why this is something you do not feel you are willing to do. The goal is always to grow your relationship, not put up roadblocks.
I encourage all of you to be open minded and adventurous. If it has been drilled in you that sex is for procreation alone and not supposed to be fun and hot, then find a way to eradicate this lie from your marriage. Satan wants to keep you from thinking positively about sex, so your marriage will suffer. God's design is for sex is-AMAZING! Don't buy into this lie anymore!
Trying to fix your relationship with Zing
Sometimes we try to do new things and spicing things up to try to fix our relationship hurts. While I do believe that sex can do a great deal to heal hurts and gaps in your relationships, it cannot be the only thing you work on. Sex is more about the connection then how "spicy" you can make it.  I know that sounds contradictory to what I just said, but the connection comes first, add spices later.
Zings of your own . . .
Now ladies I know you all have a Zing of your own in mind! Or perhaps you have a favorite position or place to enjoy each other. I encourage you to share those with your hubby. He wants to know your likes and dislikes as well as what you would love to try. I assure you that Brad and I know each other's "favorites" when it comes to sex and intimacy. Knowing each other's favorites sets the stage for good communication and will allow you to share when you want to be adventurous in the bedroom-or out of it!
Are there other ways you would share that you and your hubby use to talk about "new" ideas for your sex life?