Brad says…
Does your marriage have cancer? Kate's post, "Flirting with Disaster" talked about temptations that can enter into your marriage from innocent avenues and then snowball into huge issues. This warning is very important to heed for all husbands. These issues may start small but they can become a cancer in your marriage.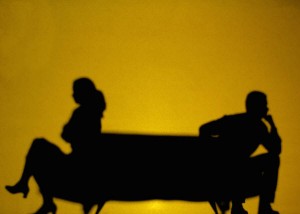 Cancer is evil, it invades the body turning what was once healthy into disease, and unless radical intervention is made, (sometimes even when it is made) cancer can kill. In the same way these 4 things can start off small but then they can grow; turning healthy, happy marriages into places of disease and potentially divorce.
No husband searches for a way to try to destroy his marriage. Yet, over and over again we see this very thing happening. We hear stories of marriages crumbling and we see the enormous cancer that caused the death of the marriage. It may have been an affair, or anger, or addiction; but we never get to see the seed, the first cancer cells entering the marriage. Often these are minor issues at the time; maybe they only happen once in a while. Guys, if you see these issues, these "polyps" creeping into your marriage watch out!
Marriage Polyps:
Anger
Anger is a mask for true emotions. Instead of feeling sad, you feel angry; instead of feeling shame, you feel angry; instead of feeling guilt, you feel angry. Anger covers over the real emotions and the real issues from ever coming to the surface.
It is natural for all of us to get angry on occasion, but if you can never end the anger and talk about what is really at the root then anger is a polyp in your marriage! This polyp will continue to grow pushing everyone around you away. Eventually anger can overtake and strangle communication, affection, and if not radically changed it will kill a marriage!
Flirting with Sexual Temptations
You will experience temptation. Men you will experience sexual temptation. These are facts and Biblical promises. There is one word to keep in mind at these times FLEE.
Proverbs talks about the allures of sexual temptation saying "Stay away from her! Don't go near the door of her house!" (5:8 NLT) We are even told to avoid even walking by the door of her house (7:8). Yet so many husbands flirt with temptation rather than fleeing from it.
When we look at the swimsuit edition, watch the risqué TV shows and movies, or develop close friendships with female colleagues we are flirting with temptation. Flirting rather than fleeing is a polyp in your marriage. It might appear innocent now, you might say that movie had no impact on your marriage. But this polyp can grow into a cancer very quickly!
Separation
Marriage was not designed to have physical distance between you. When a couple is forced to spend large portions of time apart from each other it is a significant challenge to the marriage. Can it be done? Yes. Is it the best? No! I know there are jobs that demand it, the military comes to mind, but when there is an abundance of physical separation between you it is a polyp in your marriage. Maybe it will be one you can manage, but if you don't watch closely it could easily grow into a dangerous cancer.
Secrets
Marriage as God designed is intended to be an open book to one another. Secrets can kill. This was a lesson I had to learn in marriage. Growing up, I was taught that lying was bad, but I also learned that not talking about something or not giving the whole story was quite effective. This pattern of keeping secrets entered our marriage. As a new husband I would just fail to mention any time something negative happened. It might seem easier not to talk about where the money went or what happened at work, but each secret becomes a polyp in your marriage. Each secret will eventually need to be removed. Trust me, it is much easier to share the first time then go through the pain of secret removal!
If you recognized some of these polyps in your marriage take a closer look. Think about ways to change the pattern before they turn cancerous. Pray for God to open your eyes to what He needs you to see about your marriage polyps. If you have identified that your marriage already has cancer, intervene. Doing nothing will not make it better!
Are there other warning marriage polyps? Other areas that can lead to disastrous problems if not addressed in the beginning? Let us know in the comments!