Kate says . . .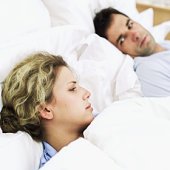 How many of you ladies  can remember an occasion where your hubby was hinting at sex and you were thinking, " I am so not in the mood"?  Even so you made an effort and somewhere in the middle you felt a desire and were ALL in the mood.  I know that I have been there enough times to remind myself now, that while I may not be in the mood at the moment, if I spend time with my hubby, I often have the desire to be with him.
Delayed desire is very common in women and normal for those who experience it.  God has designed our mind to respond with desire after arousal!  Why?   (you may ask in frustration) It is completely understandable to ask why, yet while we may not completely understand God's design we know it is good!  As a young wife, I used to think that I just didn't have any sexual desire.  I struggled mentally and I bottled up my struggle.  As a young husband, Brad had no idea why things were this way.
I remember thinking, once we get into it, I enjoy sex, but was never able to make the connection.  I also struggled with low desire that we now know was caused by oral contraceptives.  All of these variables, and our ignorance to them, caused many years of confusion, sadness and hurt which was only compounded by bad communication.  If you have been in this place like us, then you know how it feels.  Understanding your body and mind the way God designed them is so important.  So if you are one of the wives out there like me who was not in the mood, but once things started-things changed, then here are 5 tips to keep in mind.
Give yourself time
When your hubby winks at you and you know he does not have dirt in it, stop and remind yourself that you do enjoy sex, once you get started.  It is ok to need time to get things going.  Express to your hubby that you would enjoy being together, but you are going to need to take things slow.  As you become more accustomed to this and to how your body responds, you may very well end up with desire sooner.  Our bodies are creatures of habit.
Make sex a priority
When we are "practicing" often, our body is in tune with arousal and desire.  When we have turned off those things for a great length of time it can be more difficult to get them going again. Learning this cycle helped me more then anything else.  I learned that if I kept sex a priority desire came much easier, sometimes even before arousal.
Mentally preparing for sex
Another things that has helped is thinking about that special time throughout the day.  When we are thinking about work, kids, laundry, dinner and a little sleep all day, it is hard to mentally shift to sex.  This is not to surprising, I think every wife has experienced this at some point.  So if we make an effort to put sex with our hubby in those thoughts daily, it will help us with the shift.
Don't Hide Behind Arousal
If you have discovered that you have delayed desire don't allow yourself to hide behind it!  You have a choice, to use  what you know to move forward in your one flesh connection or to keep telling yourself you don't have the desire.  While it may be easier to sit and read that book or watch that TV show, neither of those are going to bless your marriage the way sex can.  God designed sex that way, because he knew it was the one thing that was reserved solely for marriage.  God designed it to be the glue in ways we cannot fathom.  All good things in life take effort.
Use what you know
You now understand better how you work, so what a better way to test that then to bless your hubby by inciting sex with him.  If you know that your desire will come after we experience arousal, why not seek out your hubby!  This is an incredible way to bless your hubby and speak volumes of how you prioritize sex in your marriage.
I would love to hear from other wives if you have found this to be true for you as well.  How have you worked through this challenge of sorts?  Are there other tips that you can share with our readers that will help them?