Brad says…
We all said them. We stood there before our wife and swore. Do you remember what you even said? No, I'm not talking angry swear words, I'm talking about those words that you said to her on the day she first became your wife, the wedding vows that you took before God, your new bride, and a whole lot of other people.
Kate's post "100 Weddings" shared some of the great wisdom that is shared at weddings but often gets lost on the bride and groom. Her comments reminded me of how little I remember from our own wedding. The day was such a blur!
In the midst of the blur I made a vow, a declaration, an oath. To put it in man speak I gave my word.  But to be completely honest, till Kate quoted part of our vows I couldn't have told you what I actually said. I had to ask her to dig out a copy so I could see them again.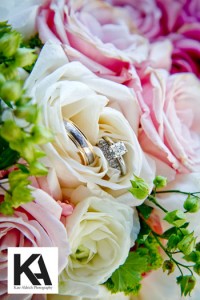 In the name of our lord Jesus Christ,
I, Bradley take you, Kate
to be my lawfully wedded wife,
To have and to hold from this day forward,
For richer, for poorer,
In sickness or in health,
To love and to cherish,
As long as we both shall live
Rereading these words started me thinking about what this oath means, and how those words I said years ago should still should impact how I am as a husband today.
To Have and To Hold
I'm actually not sure what the original writers of these things actually meant by the phrase "to have and to hold".  But I do know how I thought about it on that day, and actually I still have the same excitement about that word "have". When I say I vow to "have" my wife. I only think of one thing, "I promise I will have sex with you, no matter what!" Ok, maybe it is deeper than that. How about, "I promise that I will discover and fully explore this new idea of being sexually intimate with you every day."
This vow only grows in importance as the years march on! This is a promise to cling to each other, to grab each other and hold on, in every situation. Yes, you will have each other sexually, to explore, enjoy, experience, and excite. But even more than this you have the chance to cleave together and become one flesh! I hope that all of you take this word very seriously! Guys, if you are denying your wife sexually, fix it! If she is denying you sexually, fix it! This is more than just important to your marriage, it is your word!
For Richer For Poorer
When we got married I had been working for a little over a year, at an entry-level job that I was able to find right out of college. I wasn't making much and I was not really sure when or if I would be able to make more in my field. On our wedding day I was much more interested in hearing Kate say the words "richer or poorer" than I was worried about what they meant for me.
Now that I have some years of experience behind me I have come to discover this actually has little to do with money. I think it would actually be better if the vow said "For More or For Lack".  This is a vow to keep your word in good days and in bad.  We all have them, days that just we are just grumpy. Your wife will have them too. You gave her your word that she was allowed to have some. Sorry to tell you guys, but that's what you swore. You will love her even in her days of poor attitude, poor timing, poor fill in the blank.
In Sickness or In Health
When we were married I envisioned "in sickness" meaning something about holding her hair when she was tossing her cookies. We have been blessed in the years that have followed to have not had any major health issues. We have friends and loved ones that we have seen go through real sickness; cancer, accidents, and debilitating illness. This is the real meaning of sickness, and this is the time that this vow actually counts.
Having a spouse that is very ill is ridiculously difficult, but it is exactly what you signed up for in the beginning! I haven't been in your shoes, and I really can't imagine how challenging it is for anyone going through it! I pray that God will grant you the strength to hang on to your word every single day!
To Love and To Cherish
I've talked often about how Ephesians 5:25 tells husbands to love their wives as Christ loved the church. On top of striving for this unreachable love we also vowed to cherish her. I think it is almost impossible to understand that word when thinking about a person. However, try to think about someone you know that cherishes an object. You know, that neighbor with a slightly obsessive relationship with their prize possession; it may be a car, a trophy, home run baseball, or heirloom pocket watch.  Whatever it is this object gets a lot of that person's time, attention, brain power, and money.
Next time you come home and just want to plop on the couch and flip on a movie, remember that you gave your word that you would devote daily time and attention to your wife! Maybe there are some things you need to do before you hit that power switch in order to make sure you are a man of your word!
Daily Journey
I know I still have a lot of growing to do before I can feel like I will live up to the word I gave my beloved on our wedding day. Next time you go to a wedding, or your anniversary rolls around ask your wife to dig out a copy of your wedding vows. Take a look at what you swore on that day, and see if you can challenge yourself to keep growing into living as a man your word!