Brad and Kate say . . .
One of our readers asked us to talk about sex and pregnancy as well as sex after pregnancy.  These are great topics and it really is great to talk about them with your spouse so there are no unspoken misunderstandings.  So here we go . . . Sex with a Bun in the Oven.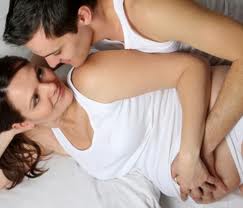 Finding out that your love has created a child is one of the most amazing and fun times!  It can also be a time of great anxiety as thoughts of safety for your child become a central theme.  Should I eat this-shouldn't I?  Should I do my normal exercise routine?  Should she keep working?  Should she really eat pickles and ice cream together, and of course should we have sex as often?
Pregnancy brings many changes for the wife in way of body and mind.  The rise in hormone levels can lead to headaches, nausea, sickness (morning or otherwise), emotional highs and lows, stretching of muscles, sore breasts-the list goes on and on.  Some of these things may be temporary;  while others may last throughout the 40 weeks of pregnancy.  Pregnancy also brings about many changes for the husband as he contemplates and prepares to provide for a family or adding to the family.  So what are the things we can do during this time to keep our one flesh connection second in our lives?
Communication is a Key
For the Wives (mommies to be):
Talk through all of the different things that are happening to you and your body.  This will help your hubby to be on the same page with you as you have ups and downs.  Communication will also help your hubby to feel part of the whole process.  After the initial excitement, our hubby's can feel a bit disengaged with the process because the baby is not living and growing within them.  Every day find ways to bond with your hubby through your pregnancy.
For the Husbands (daddies to be):
Even though you are not carrying this new life, you too can experience every step of the way.  Hey, many dads even help their wives out by gaining a few pounds as well.  Be observant of your wife and ask her how she is feeling.  Ask her if there are ways you can help her.  Talk to her about your thoughts on the baby as well as when you have worries.  Keep nurturing your marriage through communication during this special time.
Physical Touch is a Must
For the Wives:
Find ways to touch and snuggle with your hubby daily.  Even if you have had your head in the toilet all day, and are passed out in bed-hold his hand!  Let him go through this with you, even if he can't take your discomfort away.  When you are up for more, find special time to lay naked together, allowing him to marvel at the child growing inside of you.  Encourage him to talk to your baby.  Try not to push him away physically.  He still wants to feel like #2 in your life, even with the baby coming.  Keeping physically close  in this time will grow you together and help to prepare you for the arrival of your baby.
For the Husbands:
Find ways to touch and snuggle with your pregnant wife daily.  For you this is twofold, find ways to touch and caress her as you did before, but also find ways to touch her that will physically ease her aches and pains.  Touch in ways to relax her and relieve the stress pregnancy adds to her body.  Be sensitive that sometimes touch may be too much for all that she is experiencing.  Be sure to ask her what is too much and what feels just right.  Don't stop trying, even if you find she is testy here and there.  She needs to feel close to you as much as you need to be close to her.
Sex with the Bun already in the Oven
***Sex during pregnancy is normal and healthy, but should always be cleared by your physician first. 
For the Wives:
When you are feeling awful, physically, it is hard to think about sex. I totally get that.  When you walk by the trash can, catch a whiff and immediately get sick- sex is just not at the forefront of our thoughts. Yet there will be times in most pregnancies when you feel good.  Make sure that during those times, you make sex with your hubby a priority.  Let's be honest ladies, sex is what got you here.  No hubby wants to feel like sex got him there and now he is paying the price, wondering when he will share that with you again.  Sharing sex during pregnancy is good, healthy and helps us to feel connected to our spouse. Some wives have a heightened sexual desire during pregnancy and the only thing I can say to that is-go for it girl!  Either way, be conscious of making time with your hubby.  If you are not feeling well or do have physical limits, find other ways to touch and love one another.  Stimulate and bring each other to climax in other ways.  What a blessing it is to share the beauty of what created this child within you-your oneness!
For the Husbands:
Guy's get ready for a wild ride of sex during pregnancy. Between her emotions changing moment to moment, the ever present possibility of morning sickness (at any time of day), and the strange realization that you are having sex with your child in the room (fortunately womb's don't have windows); sex during pregnancy is a bit crazy! Patience and understanding are the words of the day. There will be day's your wife is raring to go, and other days that it is out of the question. Give her some grace and stand by her through it all!  Feeling awkward about it? Most guys do at some point.  Make sure to talk about it with her, you'll start feeling better in no time! (more tips on this coming in part 2)
Just for the Husbands:
Your wife is excited and also very nervous about how her body will change during this miracle.  She needs to know that you find her beautiful and attractive, all the way up to and through the delivery!  When she is sick to her stomach, or is crying because you ate the Stromboli she was planning on eating (true story, that Brad loves to share), or if she is shocked at the stretch marks developing-she needs to know that you find her radiant and beautiful!  Don't stop telling her and finding ways to express this during and after the baby is born.  It is easy to get lost in all the other hustle and bustle of life and miss these opportunities.
Keep the Connection
These 9 months (it's actually 10 ladies, but no one ever mentions that!) can be a time to bring you closer and prepare you for the blessing and chaos of being parents; or it can be 9 months of the beginning of a child separating their parents.  While one of the blessings of marriage is children, they come out of your one flesh connection.  They come out of your connection!  Once they are here (in the womb or out of it), they should not come between your connection.
Pregnancy is a wonderful time of bonding between husband and wife.  If this is not your first, then we all know there is much less time in our days for – everything!  Yet, finding time to lay naked together and marvel at God's beautiful way of creating life within your marriage is an amazing thing.  Marvel and enjoy each other even with the bun already in the oven!
What are other ways you shared special time during pregnancy?  Share how keeping sex a priority during pregnancy blessed your one flesh connection.
Up next:  Sex after the baby is born!