Kate says . . .
There comes a time that all married (or soon to be married) couples must choose whether or not to use birth control.  Finding good information and making a decision together can be hard.  Some couples choose not to use any birth control and that is fine, if that is what you feel led to do.  No marriage gets away without facing this issue, unless you ignore it completely and then most likely you will end up blessed with a baby!  
We shared that we struggled with oral contraceptives and how it affected my sex drive.  Several readers asked us to expand on the topic of birth control's impact on sex drive and share more.  We are always glad to share of our experience in hopes that God will use it to help other couples that may find themselves struggling in this area too.
Our Birth Control Story
Before we were married, Brad and I chatted a little about birth control, but because of the convenience of oral birth control-we chose to go that way, not thinking much about it.  I started taking "the pill" about three months before our wedding.  To be honest I never knew sex without the pill till many years later.  Our first year of marriage and sex was a pretty typical honeymoon period.  It was some time after that we started to have struggles.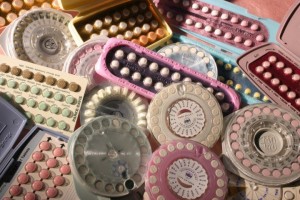 I greatly enjoyed sex when we had it, the problem was-I just didn't want it very often.  This lack of thinking about sex, among other things started to take a toll on our marriage and intimacy in all areas.  We both knew there was a problem and we would talk about it, but both were frustrated with the situation. I never understood what the issue was.
So how did we discover that oral contraceptives were a huge contributor of my low sex drive?  We got pregnant!  3 years after we were married we decided it was a good time to have our first baby (because having a baby fixes everything, right?  We will save that question for another post!)  I went off the pill and became pregnant very quickly.  During my first trimester I was dealing with lovely morning sickness (all day) and feeling extremely tired all the time so sex wasn't top on my list.  After that finally passed I started to really desire sex. I knew that some women have an increased drive for sex during pregnancy and some can experience a lower drive.  For me it was, well off the charts.  Brad and I started to put one and one together (no pun intended) and realized that this wasn't just a normal pregnancy sex drive boost.  We started reading and figured out that my birth control was greatly affecting  my sex drive.
Many people have asked what we would have done if we had known about this side effect of oral contraceptives ahead of time.  I certainly wish that we had researched the affects of oral contraceptives further then we did. In hindsight, I believe we would have chosen to do family planning (counting your cycle, and using condoms on the days you ovulate.)  Brad and I both chuckle at this because we suspect we would have probably had our children a lot sooner.  Yet, if you use family planning effectively it can work and be successful.
What can you do if you are trying to figure out birth control for your marriage?
Pray together
Seek God's wisdom and guidance.  Pray together and ask that God would lead you and show you the best way for your oneness and for your family (or future family)
Be informed
Don't do what Brad and I did and choose the "easiest" method.  Learn all about the methods and what the affects can be on you and your hubby.  Not sure where to start?  Two things we recommend.
First, talk to your doctor.  Be frank with them and go with a list of questions.  I encourage you to do this as a couple.  Birth Control is a decision for your marriage and therefore should be done together.
Second, visit The Marriage Bed's Birth Control page for all of the great information they have.  Paul and Lori stay informed on all of birth control methods and understand the medical side as well as the spiritual. They have compiled a wealth of great information that can help you make an informed decision.
Re-Evaluate
If something isn't working or you have concerns, don't just sit around and wait, make some changes and be proactive fighting for your sexual intimacy. Keep open lines of communication with your hubby about what is working and what isn't working.  Don't let birth control issues be a stumbling block in your one flesh intimacy.
Have you struggled with the effects of birth control in your marriage? 
What method were you using and how did you work to overcome the challenge? 
We would love for you to share your journey below so that we can all learn from one another and be encouraged!