Brad says…
It was a warm fall day and I noticed just a hint of crispness in the air, as I frantically drove to the most difficult meeting I've ever had.
The date was October 2nd 2006, a date forgotten by most over the years, but still remembered for the event that occurred that day. In the days that followed it came to be known as the Nickel Mines Amish school shooting, but as I raced my car the 2 short miles away, it was still just a lot of unknown.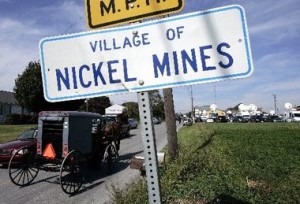 As I arrived, the school building was swarming with more police, ambulances, and fire personal then I knew Lancaster County, Pennsylvania even had. Knowing that I wouldn't be of any use there, I edged my car into the nearest farm lane, towards the home where all of the families stood waiting for news.
As I walked down the lane I had no idea what I would encounter. What I found was a group of worried families and a huddle of wide-eyed, frightened boys. No one knew what occurred in the school building after the boys were sent away. Everyone just sat frozen, waiting, and praying.
I ended up talking to those boys for about an hour before sending them out of the warm sun to get something to drink. It was only after they left that I noticed the group of police officers anxiously waiting to talk to the young innocent boys, finally telling them that many of their sisters had been wounded or killed.
Forgiveness Is…
Many of you are probably wondering why I am sharing this story on a Christian marriage blog. You might be wondering how the story of such a horrific event has anything to do with marriage. Kate's post, "Forgive and Forget" talked about the very difficult challenge of continually forgiving the hurts and pains that happen in marriage.
Many of you have been hurt by your spouse, and not just a little hurt, but hurt to the core. It might have been because of an affair, pornography use, cruel hurtful words, or something else.  I know that when the pain is that deep it doesn't feel possible to even say the word "forgive" let alone actually live it.
The story of Nickel Mines did not end at that school. The real story started hours afterwards when the Amish community went to the shooter's home to comfort his wife.
The story continued a few short days later when I was asked to help arrange a meeting between the victims' families and the widow, parents, and in-laws of the man who killed and maimed their children.
Almost 70 of us sat hidden in the bay of a fire house, quietly avoiding the media.
I had the privilege of taking the hand of a young father as he stood and looked, the shooter's wife, in the eye and said, "I forgive you, I forgive your husband, and I want you to know that we care about you. I would like if we could get to know you in the coming weeks, so we can help you through this difficult time." This father sat, embraced his wife and with tears rolling down his cheeks, he smiled, less than two weeks after his daughter was buried.
This message was repeated over and over again that day.  In the years that have followed the relationships that have grown and continue show that these were not hollow words, but they were acts of true radical forgiveness.
Radical Forgiveness
That level of forgiveness has forever highlighted for me what is possible. How can I hold on to a petty argument, an unkind word, or even malicious jab?
Forgiveness of this depth is not easy.  I remember the honest words of one of the grandmothers in the group, saying that she was committed to waking up every day and forgiving again. She knew that the anger, pain and anguish would still be right there. She knew that she would need to go to God daily to forgive again.
Radical forgiveness is not easy, but it is possible.
In the years that have followed I have seen lives change as a result of this tragedy. Change, not because they knew the victims, or because they were coping with the trauma. I have seen people's lives changed because people have said, "If they can forgive that, then I need to work on forgiving _________."
As the years has passed it is these stories, the messages of new restored relationships that has given the families of the victims a profound sense of God's provision.
Impacted?
I hope so. Help to keep the amazing story of these Amish girls going by answering this question in the comments:
If they could forgive that, then I need to start working on forgiving ____________.
If you would like to read more about the forgiveness of Nickel Mines, including more of my story I would encourage you to read, Think No Evil: Inside the Story of the Amish Schoolhouse Shooting…and Beyond
written by a friend of mine, Jonas Beiler and Shawn Smucker.
Think No Evil is much more than a story of the school shooting. It is the real story where the tragedy meets forgiveness in a way that can only encourage each of us to look deeply at the hurts in our past that we are holding on to.