Kate says . . .
Have you ever had one of those moments?  You know what I am talking about ladies . . . a moment where you hubby is making his desires and needs to be physical with you apparent and your seriously thinking about feigning a headache.  Then there are times that actually have a headache and your excuse is legitimate. 
As someone who struggled with headaches  since I was 10 years old, I know all too well how they can quickly become a reason for pushing away your hubby's sexual advances.  When your head is pounding you cannot fathom wrapping it around making dinner, much less making "dessert" in the bedroom!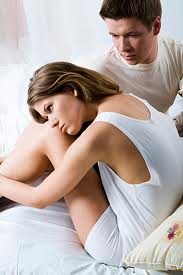 Ladies, if you struggle with headaches, either occasionally or on a regular basis, have you ever tried having sex to get rid of the headache?  I know it  goes against all that we think and feel during a headache, but hear me out. 
When we share sexual intimacy with our hubby we:
Are able to set things aside, sex is a wonderful diversion to all of life's stresses, physical and non-physical.
Exercising our body as well as all activate our bodies chemical endorphins. 
Focus on someone else, putting their needs first. 
Feel relaxed and sometimes energized in the beautiful aftermath of sex. 
Are able to sleep better.
God designed sex as a simplistic, yet intricate, way for a husband and a wife to connect.  It meets needs in us that we sometimes don't even know are there.  
Is it so hard to believe that sex can relieve the tension of a headache?  Take it from someone who has frequent headaches and also enjoys sex with my hubby.  Sex CAN relieve a headache.   Why not give it a try, next time you have that nagging headache?
There are times that a headache is just a "killer"!  Obviously those are the times you snuggle in your hubby's arms and allow him to take care of you.  I have had plenty of those moments as well.  Yet, I think there are too many times that we "just don't feel right" so we push off our hubbies desire for sex until the next day or beyond.  Next time rather then automatically saying no, try thinking, "well maybe that would help me to feel a little bit better." 
Do any of the wives out there have had similar success with pushing through the aches and pains of life to share sex with your hubby?  Has that been helpful for you?  I would really love to hear from other wives out there.