Kate says . . .
Growing together spiritually, some find it easy in their marriage and some struggle with it. Some are consistent and some more consistently inconsistent. Finding the way you and your hubby best seek God together is sometimes a challenge. Being individuals we develop our own ways of worship, prayer and growing in the Word. When we start a one flesh journey with our hubby we quickly find that we must grow together in Christ as well. The amazing part is that, there is no specific way for us to grow in Christ together-but we do have to figure out what it looks like together.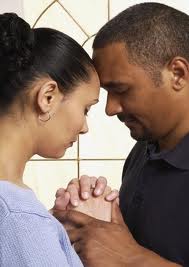 It has taken Brad and I many years of trying different things to get to a place where we grow spiritually together. Many have shared with us that they have been praying together and doing devotions of some sort, since their dating days. I wish that Brad and I could tout that, but we were young and still very immature in many ways.
Seeking to find ways to learn, grow and lean on God together will grow your one flesh connection in many ways. The goal is to find what is enjoyable to the two of you and encourages your growth in God together. Here are a few things you can do to grow together spiritually.
Devotionals
There are many couple's devotional books out there to choose from. Giving you a daily thoughts, scripture and many times prayer.
Worship Together
Making an effort to worship together during church as well as other times is something we love! There is nothing like praising God, hand in hand with my hubby.
Listen to teachings and sermons together.
The people we can learn from, both in life and marriage is so vast. Resources are at our fingertips. Search them out and listen to different teachings together. Broaden your horizons a bit. A great place to start is with your own pastor(s).
Share what God is revealing to your heart in your own devotional
Take time weekly to share what God has been speaking to you in your devotions. I love when Brad and I can share something amazing, inspiring and convicting. Sometimes we smile in astonishment, sometimes we are in tears. God is faithful, through and through!
Serve Together
Find a ministry that the two of you can do together. It could be within your home church or out in the community or both. Serving together, thinking of others first, understanding what their lives are like, whether it be teens, married couples or homeless people in your community-is very humbling and good for your spiritual intimacy.
Attend Conferences
Look for the next conference in your home church of local churches around you. It could be on various topics, not necessarily marriage. Learn together in the large group setting.
Read a Book Together
This is one of our favorite things to do together. Find a good book that is challenging in some way and read it together. We like to read aloud to one another on long car trips. We always end up talking for hours about the subject and what God's word says.
Do a Bible Study Together
Find a couple's Bible study or take one you know of and make it into a bible study for two.
Pray Together
Find time to pray together each day. If you prefer the more spontaneous style, then go with that. If not you can create a list of things to continue to pray about together.
For those of you wives whose husbands are not on the same spiritual page as you, continue to seek God on your own daily. Ask God to provide for your spiritual intimacy needs, until, God willing your hubby will desire to grow with you.
These are just a few of many ideas out there. I would love to hear of what you and your hubby do to grow spiritually together. Is it something from the list above or something else. Share in the comments below!