Brad says…
Minecraft is an addictingly simple computer game that is all the rage in 8 to 12-year-old boys. Since I have 2 of those I recently have done the fatherly things of falling under its clutches too. As I've fallen under Mincraft's spell I've learned a few marriage lessons that I wanted to pass on to you as well.
I'll admit I'm a bit of a gamer, but even more than games I have the habit of throwing myself into new activities, interests or hobbies full force. As I've come to discover a lot of other men have this same issue. It might be games, sports, cars, fishing, or other hobbies, but men often throw their "outside of work brain" into some other activity.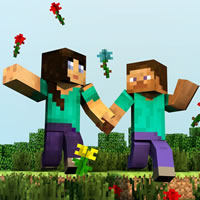 Not a Bad Thing
These hobbies are really not a bad thing. They offer entertainment, distraction and fun. In my case it offers me the opportunity to connect with my boys by sharing a similar interest and language. (I wrote that last sentence just for my beautiful wife, but it happens to be true too!)
Slipping Away
The problem with these hobbies comes when they start to take up your precious resources that should be devoted elsewhere. The two most common resources that seem to disappear are time and money. I'll admit money usually isn't my issue. I'm the "saver" in our marriage, so usually I only fall in to activities or hobbies that don't require much money. My issue is clearly time.